Now that we know what HR should leave behind in 2016, how do we start building the capabilities of HR for the future and stop the HR hamster wheel of madness?
Human Resources is a department that is rapidly changing – with opportunities and possibilities beyond imagination, when comparing HR of the past with what is possible in HR's future. As an HR professional, you sit on the precipice of moving HR into the future – with more opportunity, resources, technology, and skills than ever before. Knowing which ones are most critical in the future of HR landscape will help propel your career further and provide you with a deep sense of meaning and accomplishment in your life.
The future of HR needs three critical skills to continue the journey from "personnel department" to "getting a seat at the table" to ultimately, being an HR profit center and delivering results to the business. Are you ready to heed the call?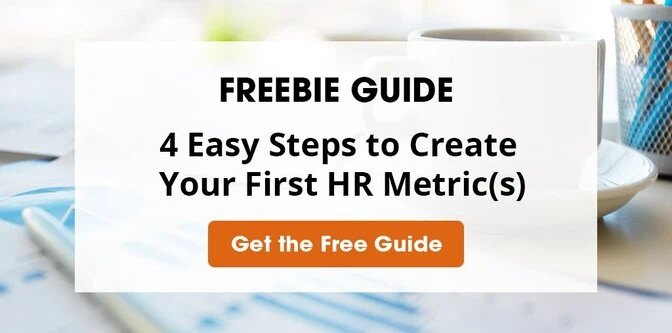 Skill 1: HR Metrics
Current State
Unless you've been hiding under a rock, you've probably heard the terms "HR metrics" or "big data" or "people analytics" bandied about over the past couple of years. In fact, your company may have already bought into this critical skill by investing in analytic software or more robust HRIS infrastructure so HR can start reporting on "metrics."
HR metrics is simply the quantifiable data that you collect and then interpret, to help show various ways in which HR is making an impact to the business and/or people. It is the story that is created to help HR make smarter decisions and to add to the business's bottom line.
In plain English, HR metrics are numbers that support the hard work that you are already doing in HR, and helps inform you and the clients you support, as to how to apply your strengths in the more effective manner.
Most HR departments are currently using some form of HR metrics, mainly focused on Recruiting efforts or through an external interactive dashboard technology. Across many companies, however, there is not a diverse set of metrics being used nor is storytelling tied to the various metrics. And worst of all, metrics typically resides within a data/analytics group or person – leaving your HR capabilities and wisdom at a disadvantage.
But that framework and those limitations are not going to work in the future of HR.
The Future of HR
HR has always been driven by people. Letting a technology platform deliver results, will always miss a significant chunk of the story. And that's where you come in.
HR Metrics, as a skill, is much more than what technology or what calculating various equations can deliver. It's about being able to deliver the right strategic HR story to the rest of the business, using the various HR metrics that you create. And the best part is, you don't have to be a data scientist or invest in another significant technology solution to deliver results.
And all the available technology is helpful. But it still doesn't tell the complete story when it comes to the future of HR.
#HRmetrics is one of the most overlooked skills that can propel you to top.
Click To Tweet
As the future of HR continues to shape today's HR landscape, HR metrics is one of the most overlooked skills that can propel you to top more quickly than anything else. If you're looking for visibility or opportunity, this is the skill to focus on. Every single HR person should be investing their learning with HR metrics included – you don't have to own a budget, be a recruiter, sit in a senior level role, or any of the other myths out there about being able to deliver quantitative results.
Why This is a Critical Skill
Being able to directly show the business your impact through HR metrics – on an individual and department-level, creates instant credibility and thought leadership. You will be able to take HR-related activities, programs and decisions and present them with senior leaders outside of HR with quantitative meaning.
Being able to show the business impact w/ #HRmetrics, creates instant credibility
Click To Tweet
Through applying HR metrics correctly, you will be able to create meaningful HR dashboards that the business can rely upon and leverage when making people-driven decisions. Instead of focusing on the ubiquitous "employee engagement" – you will be able to focus on specific actions and activities that will drive actual engagement across your employee population.
HR metrics will be the framework for all HR activities in the future – it will inform every aspect of HR. Becoming an expert in HR metrics now will help you grow your career faster than anything else within HR.